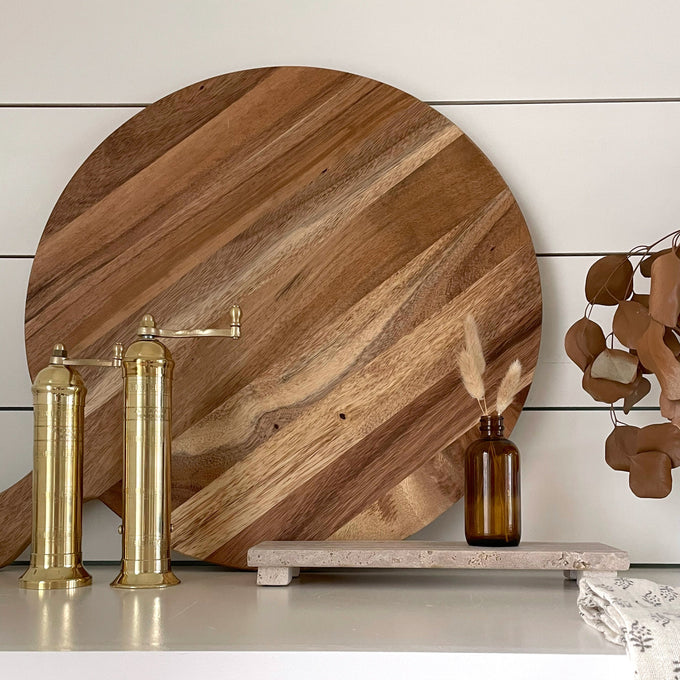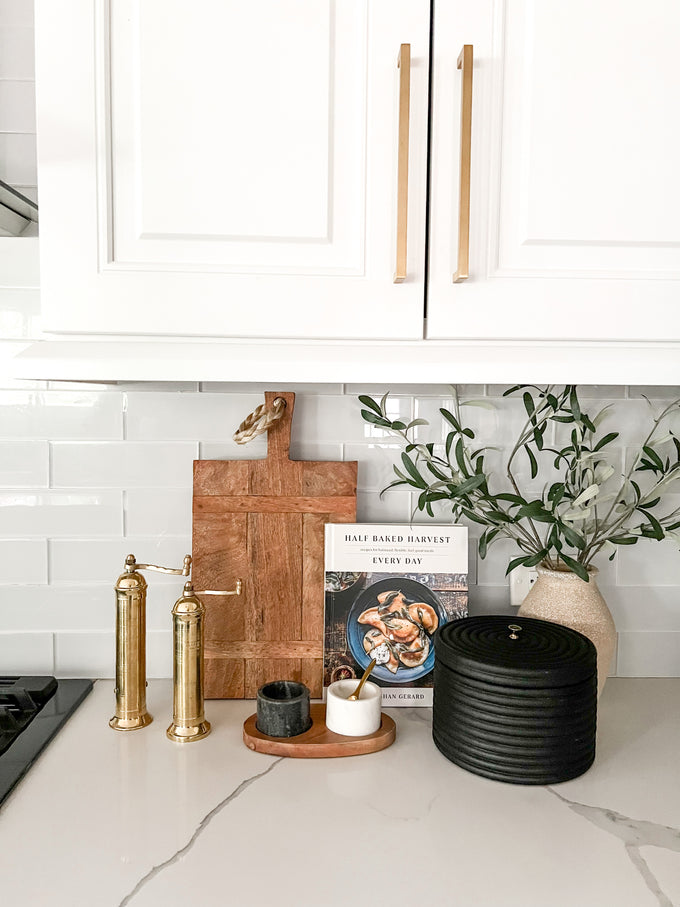 Overview
The beautiful Ophelia Salt + Pepper Mills from Pepper + Vetiver are a stunning pair handmade in Greece to add elegant detail to your Kitchen. The interior system is crafted to grind peppercorns and coarse salt to maximize the spice's flavor and aroma. Impress your guests with the world-class design of these brass salt and pepper mills. 
Material: Brass
Handmade in Greece
Sold as a set of 2

Details & Dimensions
9"h (Pepper Mill)
8"h (Salt Mill)
Comes packaged in a box. Simple assembly required (handle is located on the inside of the mill for transport). See instructions below.
Adjustable mechanism on pepper mill. Choose between fine or coarse grinding to suit your recipe. 
Assembly Instructions
To assemble the mill, unscrew the bolt at the top of the mill and remove the top, take out the handle, replace the lid, place the handle on top of this, and screw the nut down tight. Prior to first use, it is recommended to clean the mechanism by grinding a small amount of ingredients through the mill and discarding.
Instructions for Use
Our Ophelia Mills should only be used for grinding ingredients they were intended for. Pepper mills are designed for grinding standard peppercorns, but may also be used to grind dry spices. Generally, it is not recommended to grind larger peppercorns or spices with a soft core in these mills. Never grind salt in a mill intended for pepper, as this will corrode the metal mechanism. Salt mills have a food safe plastic grinding mechanism and are suitable for grinding dry sea salt or rock salt. Avoid "wet" or "grey" sea salt, or salt flakes as these will clog the mechanism. 
To adjust the grind, adjust the screw to the underside of the grinding mechanism at the bottom of the mill.
Care
Wipe with a damp cloth and dry completely. Avoid harsh cleaners or chemicals. Please handle with care. Brass is naturally resistant to corrosion, but like all metals, will inevitably oxidize and change in appearance with touch and use which brings with it an attractive patina of use. 
Shipping
Due to high demand, please allow up to two weeks for delivery.
If you purchase multiple items, we will ship out each item as it is ready and your order may arrive in multiple packages.
Shipping times may vary. 
More Brass Decor, Kitchen Decor
Brass Salt and Pepper Mills
Brass Pepper Mill